A special exhibition to celebrate culture night titled "The Stradbally Six" opened recently at the Laois Arthouse Gallery, Stradbally .  The exhibition title is based on how these six artists have come together to live and work in this creative space which historically was a courthouse and jail.   The exhibition was officially launched by botanical artist Mary Dillon who recently facilitated a weeklong botanical art course at Laois Arthouse, as part of the Summer Arts Programme.
The exhibition includes selected work by resident artists who have sojourned recently or are currently in residence at the Arthouse Studios.  The artists include; Maria O'Brien from Tipperary, Caroline Keane from Portlaoise, David Tully from Dublin, Jen Donnery from Laois, Eriko Yano from Japan and Cathy Whelan from Kildare. The exhibition will include a  rich  and varied mix of work include paintings, ceramics and film, by the artists who have utilised the creative space of the Arthouse to complete some of the work in the show.
Maria O'Brien – MFA 2010 and BA Fine Art, 2003 NCAD, Graduate Diploma in Art Education, 2005, LSAD. Themes in the work: 'The starting point of my work is the figure in landscape. I paint from photographs mostly of people at leisure. I recognise a collective romanticism or yearning for the experience of the sublime or adventure. Maria is the recipient of the Laois Arts Office Tyrone Guthrie Bursary 2018.
Caroline Keane is originally from Portlaoise and studied Fine Art in the Limerick School of Art & Design, specializing in Sculpture and Combined Media.  Currently her art practice is based in Laois where she also runs her own series of Art classes, community events and festival commissions. Her work investigates the role that cultural contexts play in an individuals' experience of loss. Her practice explores behavioral displays of mourning, which are often culturally defined and the role in which heritage plays in an individual process of grief and mourning. These unique and emotional expressions are compared and displayed through a mix of media.
David Tully, Born in Ireland. David's work swings from Digital to Site-Specific and everything in between. Over an 11yr period (abroad) David developed a site-specific practice best understood as "anonymous discovery".  His work can be comedic, intuitive, provoking and aesthetic combined. David has exhibited widely. His site-specific installations have been found at Pier 94, Hudson River New York / Jefferson Market Garden, Greenwich Village New York / MoMa New York / Armory Art Fair, Special Projects  / Dublin Contemporary / Rose Windows, Sir John Rogersons Quay / Project Mapping, St Andrews Church, Westland Row Dublin
Jen Donnery – Jen Donnery was awarded a residency at The Laois Arthouse for her work in the 2017 Open Submission Exhibition, Dunamaise Arts Centre. A graduate of Abbeyleix FETC, she is currently studying at NCAD.  A shortlisted artist for the UK National Open Art Prize 2017, Jen has exhibited work in group shows at Birr Technology Centre, The Dunamaise Arts Centre and the Solomon Gallery, Dublin. Most recently her work featured in the Sentient Structures group show as part of Birr Vintage Week. Her exhibition, Hidden Spaces will be on display in Roundwood House, near her home in County Laois, as part of Culture Night 2018. This body of work deals with our connection to past places and the fragility of security, questioning how the human figure moves through spaces, searching for a reaffirming connection to what went before."
Eriko Yano – Born in Takamatsu, Kagawa, Japan. Eriko has a BA in Department of Industrial, Interior and Craft Design, Musashino Art University, Tokyo, JAPAN (Ceramics course) and worked as a research associate in Musashino Art University, Tokyo, Japan. She now lives and works in Dublin and in on a three month residency at the Laois Arthouse.  Solo Exhibitions include: "eigo-no-daimei" Gallery Nenohoshi, Daikanyama, Tokyo, JAPAN and "A next of the next" Gallery Ruvent, Tokyo, Japan and she has exhibited in numerous group exhibitions in Japan.
Cathy Whelan is a Ceramic Artist and Educator. A graduate of the National College of Art and Design, Cathy's practice explores behaviour and emotion. Cathy's work has been exhibited as part of a group show in Gallery Zozimus, Dublin and as part of a collaborative exhibition in NCAD. Her current body of work investigates the effects of technology on our daily lives. It questions the pressures exerted by a modern digital culture and how this impacts our connection with the natural world.
Visitors are welcome to  come to view the exhibition at the Laois Arthouse Gallery in Stradbally up until the closing date on Wednesday 17th October. T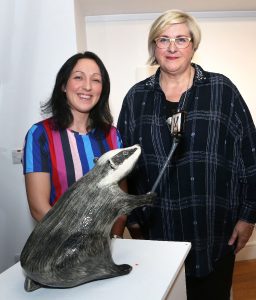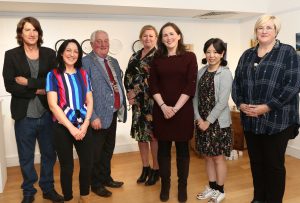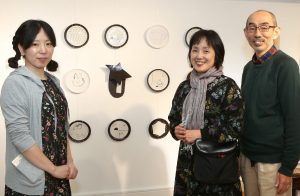 Opening times: Tues and Thurs 1pm-5pm & 5.30pm-8pm, Sat: 10am-1pm (except on Bank Holiday) (entry through library) Wed and Fri 1pm-4pm (entry through Laois Arthouse)
For more details contact T: 057 8664033 E: artsoff@laoiscoco.ie. On Culture Night Friday 21st September for extended hrs from 5pm-8pm to showcase the work.
.