Next Showing:
"Related to Life"   A multimedia exhibition by Mette Sofie Roche   The exhibition runs from Thursday 17th November to Friday 9th December  Mette is originally from North-Norway but has lived in Ireland for more than 40 years and runs a full time art practise from her studio in Co. Meath. After a 30 year professional career as a social worker she graduated from NCAD in 2011 with a Diploma in Art & Design.
She is a process oriented and multidiscipline artist who uses a wide spectrum of both materials and methods in her art practise. What she is interested in is to take real life objects or materials and turn them by some inspired, secret process, into something else; related to life in some way, conceptual or otherwise, but stronger, more intense and preferably weirder.
Research into the cultural traditions, beliefs and myths of the Samé People in the Northern hemisphere, her ancestors, has given direction to her art work in the last few years. It is a culture in transition with influences from many different directions both religious, political and economic. Only traces and fragments are sometimes left of the ancient traditions and the knowledge of nature so vital to a traditional Samé community.
The sculptural installation of Tatterlings symbolises the deterioration of the old way of life and is made from the synthetic fiber found in workmen's suits. A collection of drawings and silk paintings are further fragmentations of these sculptures.
She explores the old craft of candle making in her wall mounted and freestanding wax sculptures which are inspired by the old Samé 's belief in Totemism; believing in the power of inanimate objects to hold "conscious" spirits that interact with society. The land inhabited by the Samé have been fought over, claimed and contested for generations.The sculptures Inherited Landscape and Subject to Inquiry make references to the many litigation processes. In Whitescape, the memory and knowledge of the landscape are in the folds and layers, twists and turns of organically shaped rags from re-cycled cotton bed linen. The art work creates innovative compositions with elements of mystery, ambiguity and a sense of intrigue. The work process is a way of tracing and preserving things that are gone or slowly disappearing – or falling apart. The ambiguity allows the viewer to bring their own meaning to the art work. www.metteroche.com
Most recent exhibitions included an exhibition of paintings, entitled 'Another Reality' from Limerick based artist, Nuala O'Sullivan, in September. Nuala's interest in the aesthetic and culture of the 1950s period and the friction between outward appearance and hidden restriction, come together in this series of paintings. The works reference family Super 8 movies and photographs from the 1950s and 1960s period.
Within the work many thin layers of paint are used to allow some of the light from the canvas to remain, reminiscent of holding a negative or piece of old celluloid film to the light. 'Through my painting I want to intervene and interfere with the still image. This interference with the original image involves bringing colour, new scale, and new meaning to the images; bringing the viewer's attention to the surface of the painting, and in so doing to show the passage of time within the final painting. Through painting these photographic images they will have an afterlife.' Living and working in Limerick, Nuala O'Sullivan was awarded her BA in Fine Art (Painting) from Limerick School of Art and Design in 2006 and completed her MA in 2013.
In July the Arthouse Gallery, presented Night Shade Sound Scape an exhibition by Leitrim-based artist, Dorothee Kӧlle, officially launched by Enda Coyle-Greene, Poet and winner of the Patrick Kavanagh Award.
The work included paintings, collages, assemblages, and an installation reflecting the gallery space, the artist environment, and outer and inner experiences. Spontaneous creation, contemplation and analytical reflection go hand in hand during her process of working. A constant juggling between flexibility, openness, control and boundaries. The idea of a journey of travelling without knowing the outcome is reflected in searching and discovering different approaches in her art practices.
Dorothee Kӧlle has exhibited in various venues in Ireland such as in the RHA Annual Exhibition, IONTAS, Sculpture in Context and other selected or invited group shows since 1991. She completed the three years Sculpture Course in Manorhamilton, and graduated in Fine Art at Sligo IT in 2005.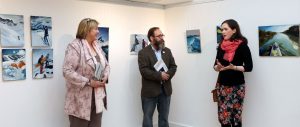 'On My Green Way I Wend' an exhibition of paintings by Tipperary born artist Maria O'Brien took place in May.
A new body of work, created during her residency in The Laois Arthouse, reveals a renewed exploration into landscape for the artist. The exhibition was officially opened by Noel Kelly, CEO of Visual Artists Ireland.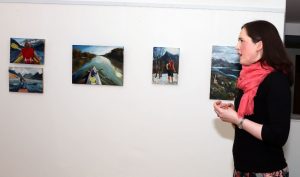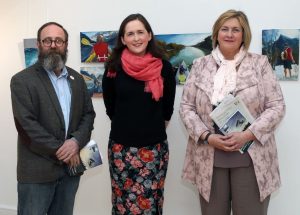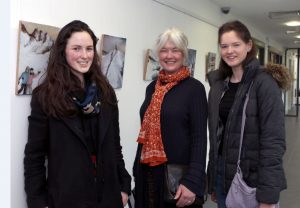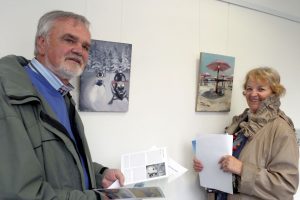 The work explores humans engaging recreationally with the outdoors – using nature for their own diversion and entertainment with all the paraphernalia this involves. Action shots are painted quickly and deftly capturing the energy and spontaneity of the interaction between humans and their surrounds. O'Brien draws attention to how bizarre the human struggle to engage with nature often seems. She highlighted this through her palette, the often ostentatious coloured garb jumps out against the natural background. She paints people who want to be seen; a basic human desire. As much as wanting to be seen is innate in human nature, so is wanting to watch others, in the artist's case painting the memories of perfect strangers. It is through her observation of the human in their surrounds, through her choice of content and rich surface, that the artist has created a new platform from which we, the audience, can vicariously people-watch ourselves.