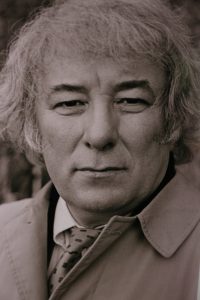 PORTRÁIDÍ ÓIR AGUS PORTRÁIDÍ EILE'
To celebrate the launch of Bliain na Gaeilge and Seachtain na Gaeilge, the Laois Arthouse, Stradbally, Co Laois, will host Portráidí Óir agus Portraidí eile by Pádraig Ó Flannabhra from the 3rd March. The exhibition will be launched by Liam Ó Maonlaí, Musician with the Hothouse Flowers.
(image from exhibition)
Pádraig Ó Flannabhra has been a Photographer for most of his life and a full time professional since 1984, when he established his Photoart Studio, specializing in Portraiture, Landscape and Press work.  He has exhibited widely in Ireland and abroad, notably in the UK and at the 'Festival Interceltique de Lorient, France, winning many awards for his creative work.
The title  PORTRÁIDÍ ÓIR',  not only reflects his love and support for our first language but, the exhibits also includes 10 Gold Portrait Awards, which he was presented with from 2004 onwards by Kodak. The Stradbally showing of his work will be the first time the Gold Award Portraits will be exhibited together in an exhibition. The exhibits will be available for purchase.
The exhibition runs from 3rd to 30th March 2018 in the Laois Arthouse, Stradbally, Co Laois.
Open Tuesday and Thursday 1pm &-5pm & 5.30pm-8pm  Saturday 10am-1pm (through the Library) Wednesday and Friday 1pm-4pm (through the Laois Arthouse)
For more details: T 057 8664109/4033 E artsoff@laoiscoco.ie