Coming soon to the Arthouse Musings of an Artful Life' and exhibition of work by the Old School Collective;  comprising of artists;  Antoinette Breen , Mike Rafter , Kevin McCann and Liam Phelan. Opening on Thursday 7th May at 7pm, the work will be on display throughout the month of May. Visitors are welcome to view the wonderful selection of paintings, including still life, portraits and landscapes developed over the year by the group.  Antoinette Breen, is a self taught Laois artist. Studied in N.C.A.D and D.L.I.A.D.T., she paints in oils and acrylics mostly. Antoinette has work in several collections in Ireland and abroad. Mike Rafter is a self taught artist from Castletown who works mainly in oils and prefers to paint out of doors in a loose alla prima style. Kevin McCann is a self taught artist, who works with oil paint, wood and ceramics. Most of his work includes people in some shape or form. Liam Phelan is a retired local businessman who has focussed more on his artwork since his retirement. His preferred medium is acrylic on canvas and his work includes landscapes, seascapes and local historic buildings.  Having formed the Old School Art Collective the group meet regularly in Bloom HQ Mountrath.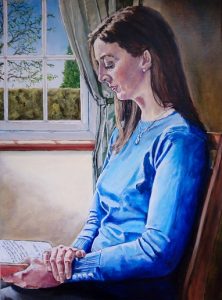 The most recent exhibition at the  Arthouse was a wonderful collection of works by Pakistani born artist Hina Khan. The exhibition was formally launched on Saturday 11th January by Miniser Charles Flanagan, Minister for Justice.
Previous exhibition on show was by Kildare based artist Cathy Whelan who specialises in ceramic artwork. titled "Losing Ground".
Cathy's work explores evolving ideas about the environment and highlights the intersection between humanity and nature. It serves to question the impact of human activity and the pressures we exert upon the natural world through a modern culture of excess.
Cathy is graduate of the National College of Art and Design and is currently in residence at Laois Arthouse. She has exhibited work in Gallery Zosimus Dublin, NCAD Window Gallery and as part of a Group show in Laois Arthouse.
The exhibition was opened by Wildlife Conservationist, Ricky Whelan. Ricky studied Zoology in NUIG He works with BirdWatch Ireland's Conservation Team.