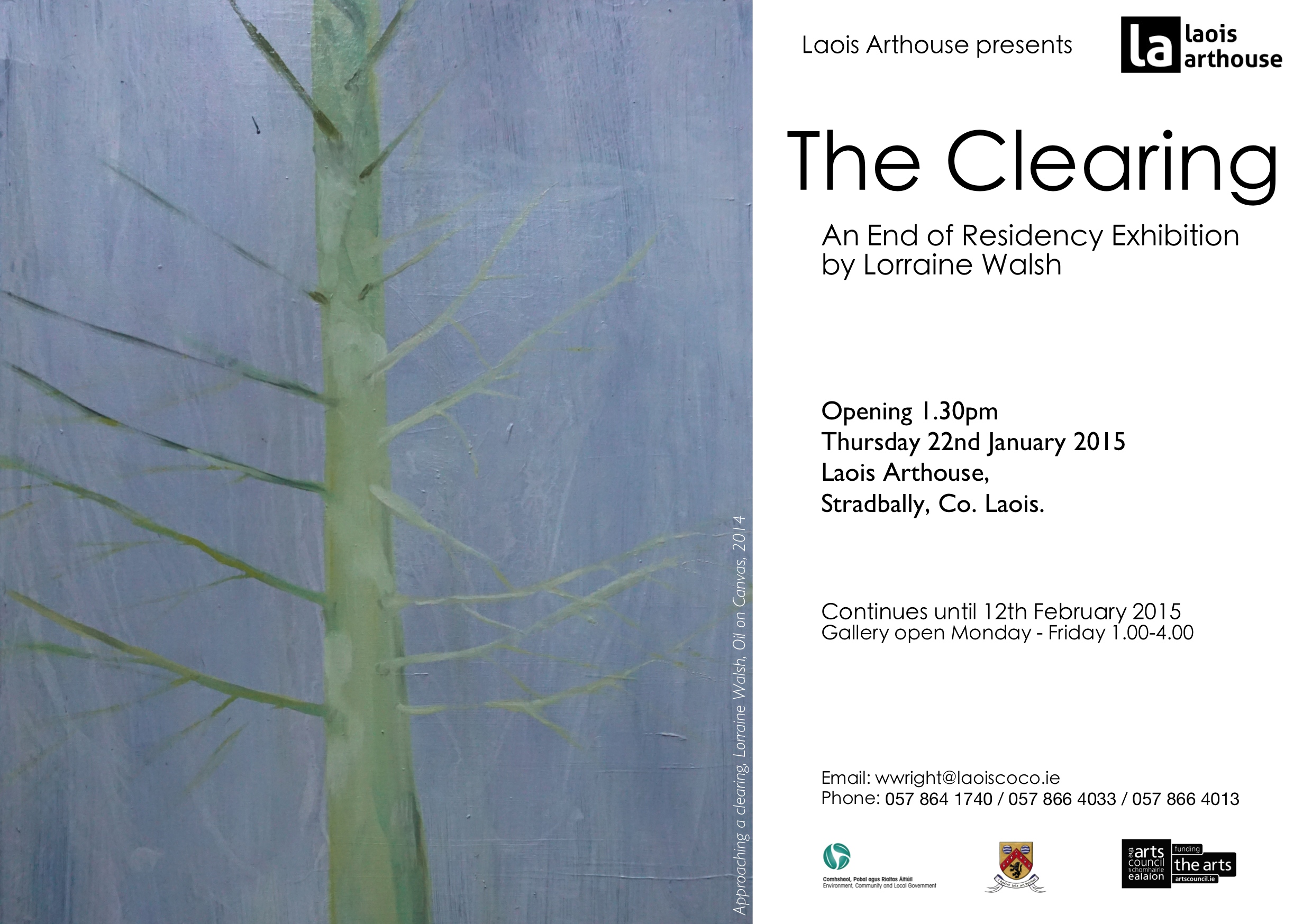 You are cordially Invited to
The Clearing
1. The act of a person or thing that clears, the process of becoming clear.
2.. A tract of land, as in a forest, that contains no trees or bushes; *
An End of Residency Exhibition
by Lorraine Walsh
The Clearing a multidisciplinary exhibition by Lorraine Walsh. The works in the exhibition were developed during the artist's residency at the Arthouse studios, Stradbally where the artist was a recipient of the Laois Arthouse Studio Award 2014.
The Clearing explores both our perception of and connection to the natural world and includes drawing, painting, photography and installation of found, natural materials.
The artist is most drawn to places that define the edges between nature and culture usually unremarkable terrains at the edge of towns or along roadsides. An exploration of the Laois landscape uncovers a clearing of a commercial forest plantation, a wood chip factory and the grounds of Stradbally Estate. Inbetween patches of wild and cultivated ground, the domestic and the commercial; the work in the exhibition reflects on what constitutes place in cultural, ecological and poetic terms.
Using the particular qualities of paint and materials scavenged from the landscape the exhibition also evokes the artistic process itself, inviting the viewer to share in the activity of the artist- -the working and reworking of materials and ideas – in trying to make clear our complex relationship to the natural world.
Work created by participants during the artist's community engagement projects will be exhibited in the Arthouse to coincide with The Clearing. The works include portraits painted by individuals of their pet animals and a Wildlife Light Installation displaying children's shadow puppets made during Art Expedition, a series of shadow play workshops exploring the animal world.
About the Artist
Lorraine Walsh graduated with an MFA in painting in 2007 & a BA (!st class hons) in Fine Art & History of Art 2005 both from NCAD. She has participated in numerous group shows in Ireland & internationally including The Crawford Open and E:vent Gallery, London and 411 Galleries, China., Her work is included in private and corporate collections in Ireland and the U.S. Upcoming solo shows include The Last Place opening February 2015 at Custom House Gallery, Westport, Co. Mayo.
The artist gratefully acknowledges the support of Laois County Council, and Kildare Arts Service.
*clearing. (n.d.) Random House Kernerman Webster's College Dictionary. (2010). Retrieved December 30 2014 from http://