Sitting
__________________________________________________________________________________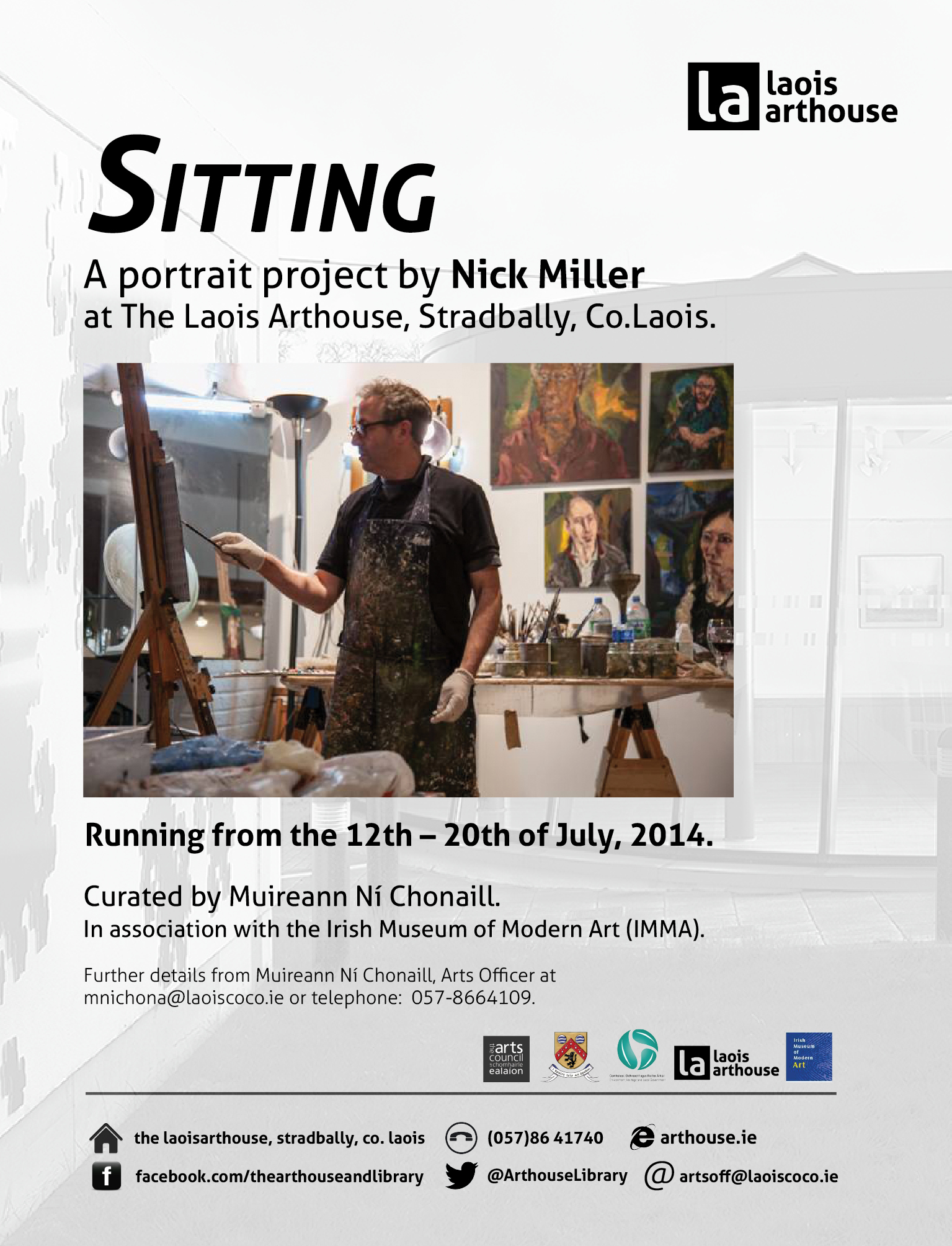 Sitting, the title given to an upcoming residency, by artist Nick Miller, at the Laois Arthouse, Stradbally, Co Laois, will take place from 11th-20th July 2014, when over the course of ten days; Nick Miller will invite the public to sit for portraits in his studio. Sitting is curated by Arts Officer, Muireann Ní Chonaill.
The theme for this residency continues a long term involvement with contemporary portraiture that is central to his artistic practice and more particularly follows from a project Miller carried out in Brooklyn, NYC, where he spent 40 days painting a portrait a day.  He is looking forward to the residency in the Laois Arthouse which will afford him the opportunity to meet and engage with  members of the public who are willing to offer to sit and be painted.
People can volunteer by contacting the Laois Arthouse.  As many people as possible will be accommodated to avail of this unusual opportunity.  The portraits are not 'commissions', or photo realistic images, but more a record of the artist's encounter with the sitter. Done on watercolour paper, each sitting will be "closed" or private in the studio with Nick, while he attempts to paint. It is a relaxed and hopefully enjoyable process. The sitter can talk and does not need to be absolutely still.  He will use watercolour for these portraits and it should take approximately one hour or less to complete, depending on the size of work.   All portraits will go on display at the end of the residency for an open day on Sunday 20th July. The portraits will remain on display until the 1st of September 2014. After the residency, a signed and limited edition archival fine art print of each portrait can be ordered and purchased for a nominal price of €40, but there is absolutely no obligation to buy. Payment can be made on the day of sitting and must be paid in full by September 1st. The original, may also be available to purchase and this can be discussed with the Arts Office.
The portraits will be done from 14-19 July, all day, in Studio 2, Laois Arthouse. To book a place, email your name, address, telephone contact, email and preferred date, morning, afternoon or evening, to cmaher@laoiscoco.ie or telephone, 057-8641740.  Places will be allocated by the Laois Arthouse, and there is no guarantee that all requests can be accommodated. Documentation of the residency will take place and you may be asked if you are happy to have your sitting recorded.
A further lasting legacy of Nick Miller's residency is the commissioning of Nick Miller to paint the portraits in oil of well known artist, Cathy Carmen and writer, Pat Boran from Laois. Carmen and Boran were selected as sitters in recognition of their contribution to the arts in Ireland and as a welcome addition to the Laois County Art Collection.
Sitting includes an exhibition of selected portrait related works by Miller on loan from the Irish Museum of Modern Art's Collection from the 1 July –2 September 2014. IMMA lends extensively from the collection to partner organisations creating wider access to the collection on a national level. Such collaborations allow IMMA the opportunity to contribute to distinctive exhibitions and projects such as Sitting.
The selection for Arthouse includes the drawing Corban which is part of a series of large scale portrait drawings undertaken by Nick Miller between 1996 and 1999. For each portrait the sitter is straddled and drawn inches from their face while lying on the paper. Corban Walker is also an artist whose work is also represented in the IMMA Collection.
Also included in the exhibition is a portrait of fellow Sligo based artist and Patrick Hall. The painting has personal meaning for Miller in terms of their friendship and of his interest in engaging with a subject which is present as distinct from his memory-based work such as the South Africa Memory Series I, made after an intense one month trip to South Africa which the artist undertook in 1991. The series explores the complex nature of a personal encounter with a country in the flux of major political and social change.
Nick Miller moved from London to Ireland in 1984, and has been based in Co Sligo since 1992 . His work, whatever his subject: a person, an object, or landscape, is concerned with portraiture and with how we experience and meet the world.  His paintings and drawings of friends and family members and colleagues, sometimes made from an unusually close range, parallel landscapes painted from a mobile studio devised to minimise the separation between artist and subject.  Miller has exhibited in Ireland and internationally since the 1980s.  His work is represented in many public and private collections. Miller was elected to Aosdána in 2001.
On the 20 July at 3.00pm, the final day of the residency, the public are invited to an open day at the Laois. Christina Kennedy, Head of the Collections of IMMA, will interview Nick Miller on his process, as well as viewing of the portraits undertaken during the residency and the IMMA art exhibits.
For the duration of the residency the Laois Arthouse is open to the public from 10am-5pm Monday to Friday, Saturday and Sunday 3.00pm-6.00pm
This project is funded by the Percent for Art Scheme and Laois County Council.
For further information and images please contact Muireann Ní Chonaill at mnichona@laoiscoco.ie or telephone: 0578664109/057864174
Twitter: @ArthouseLibrary
facebook: facebook.com/arthouseandlibrary
Website: www.arthouse.ie
Nick Miller is represented by Rubicon Gallery /Projects More info at www.rubicongallery.ie  and on the artist at www.nickmiller.ie
Map of Location of The Laois Arthouse in Stradbally, Co. Laois
http://www.irishrail.ie/travel-information/portlaoise
For Bus details visit:
www.BusEireann.ie
For Driving directions visit:
Google Maps> Enter Desitnation: Stradbally Library