Upcoming Exhibition of Photography titled 'Heart'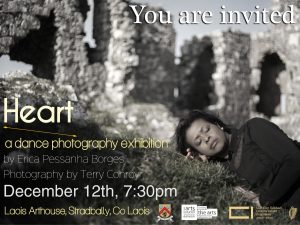 As part of the 2017 Creative Ireland Programme the Laois Arthouse Gallery, Stradbally  will host an exhibition of photographs titled 'Heart'.  It comprises of a vibrant and unique collection of photographs created by dance artist Erica Pessanha Borges and photographer Terry Conroy.  The beauty and richness of some of County Laois Heritage sites form the backdrop to the dance forms captured in this collection of photographs.  The exhibition will be officially launched on Tuesday 12th December at 7.30pm by Jazmin Chiodi of Iseli-Chiodi Dance Company.
The exhibition runs until 26th January.
Opening times: Tues and Thurs 1pm-5pm & 5.30pm-8pm, Sat: 10am-1pm (except on Bank Holidays)
(entry through library)
Wed and Fri 1pm-4pm (entry through Laois Arthouse) For more details contact T: 057 8664033
E: artsoff@laoiscoco.ie