Coming soon Doorways of Stradbally Art Exhibition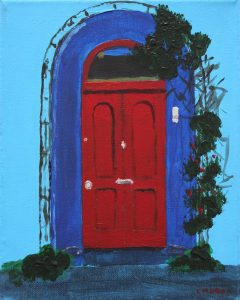 The Stradbally branch of the Active Retirement Association (ARA) will launch their art exhibition entitled "Doorways of Stradbally" at the Laois Arthouse Gallery, Stradbally on Saturday 6th May at 1.30pm.  The exhibition will be officially launched by Anna May McHugh, the Managing Director of the National Ploughing Association of Ireland.
Included in the exhibition are twelve wonderful original paintings, each depicting a different historic doorway in the town.  The Active Retirement Group wanted to leave its stamp on the annals of Stradbally in some way. Chairperson of the group Ette Kennedy suggested that they  paint some of the Doorways on the Street in Stradbally. This original idea captured the imagination of the artists of the group and thus the  "Doorways of Stradbally" was born.  Seven members took on the task and these include;  Chrisse, Christy, Ette, Mary, Michael, Phyllis and Vera.
All paintings will be for sale with proceeds going back into the ARA.  The Stradbally ARA has been established for three years and currently has twenty members.  It is an open and inclusive organisation who aim to support and empower retired and semi-retired individuals in their community through a wide range of activities.
Commenting on the upcoming exhibition Anna May McHugh said "I extend my congratulations to the Stradbally Active Retirement Group on their initiative and I sincerely hope their work will be appreciated".
Visitors are welcome to view the exhibition at the Laois Arthouse Gallery in Stradbally from Saturday 6th May until the closing date on Thursday 1st June.
Opening times: Tues and Thurs 1pm-5pm & 5.30pm-8pm, Sat: 10am-1pm (except on Bank Holiday) (entry through library) Wed and Fri 1pm-4pm (entry through Laois Arthouse)
For more details contact T: 057 8664033 E: artsoff@laoiscoco.ie