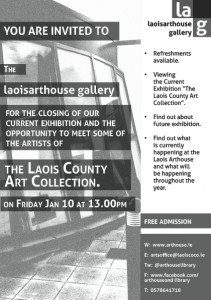 This coming Friday Jan 10 at 1:00pm. The Arthouse and Library will be holding a Tea/Coffee afternoon. This is the last chance to see the current exhibition of Laois County Art and also to meet some of the artists of the collection.
Refreshments are available.
Viewing of the current exhibition "The Laois County Art Collection".
Find out about the next exhibition.
Find out what is happening currently at the Laois Arthouse and what will be happening throughout the year.
All are welcome and we hope to see you there!