Press Release: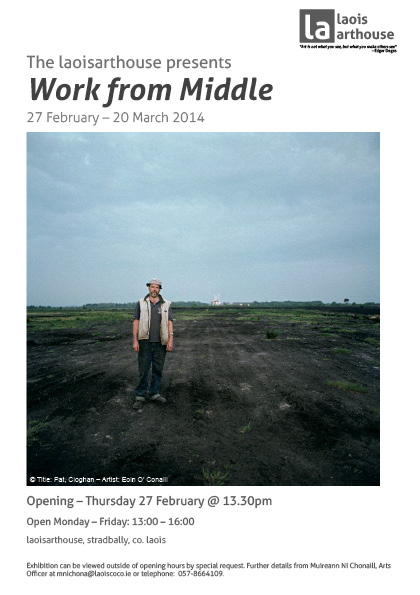 PRESS RELEASE
Work from Middle­­­
"Often perceived as a wearily protracted obstacle between Dublin and the west; in the days before motorways, a slow ticking off of dull little towns on a lot of flattish land drained by sluggish rivers; more lately a whizz between video-game verges, with nowhere in sight to pee." Michael Viney, the Irish Times, Saturday May 18, 2013. From his weekly column entitled, Another Life, article entitled, "Laois and Offaly, I take it all back."
The theme for "Work from Middle" was inspired by an article by Columnist, Michael Viney, entitled, "Laois and Offaly, I take it all back." It refers to a publication, "The Geology of Laois and Offaly", which is the culmination of a lifetime research undertaken by Dr John Feehan, on the broader cultural heritage of Laois and Offaly.  A feature of the book is the six specially commissioned paintings illustrating different periods in the geological evolution of Laois and Offaly, by Offaly-based artist Jock Nichol.
"A Sense of Place, interests me greatly.  When I read the opening lines to the article by Michael Viney, from his weekly weekend Irish Times column, it made me question the varying clichés and viewpoints held on the Midlands of Ireland" said Muireann Ní Chonaill, Arts Officer of Laois County Council who is the Curator for this exhibition. "The Midlands variably described, conjuring up the following images for many people. Flat as a pancake, garrison towns, town of two prisons, languid lazy drawl and ghost estates. The Doughnut, (with nothing in the middle), country and western music and 'beef to the heels like a Mullingar heifer.'  New communities, increased population, built heritage of outstanding architectural value, monastic sites, limestone, mountains, lakes, canals, stories and traditions. Pulsing and under-wraps."
There is more to the Midlands than meets the eye.  Apart from the varying landscape, the highlands, lowlands, peaks, water, flowing and still, this place is enriched by its people. It is what makes the place unique.
"Work from Middle" is on view in the Laois Arthouse Gallery. The Laois Arthouse comprises of Studios, Apartments, an Exhibition Space, Rehearsal Space, Kiln, Garden, digital facilities and a public library. An Artists-in-Residence scheme is funded through the Department of the Environment, Percent for Art Scheme.
Artists: Eoin Ó Conaill, Jock Nichol, Ken Wardrop, Lisa Fingleton, Saidhbhín Gibson, Simon Burch and Vera Mc Evoy.
The exhibition will be shown at the Laois Arthouse, Stradbally, Co Laois from 27th February at 1.30pm until 20th March from 1pm-4pm daily (Monday-Friday), or outside those hours by special request.
Further details from Muireann Ní Chonaill, Arts Officer at mnichona@laoiscoco.ie or telephone:  057-8664109.
EXHIBITORS
Eoin O' Conaill
Eoin O'Conaill is a photographic artist based in Cork. He has exhibited his work both nationally and internationally, having recent solo shows at the Ulster Hall as part of Belfast Photo Festival '11, West Cork Arts Centre '10 and was the winner of the Gallery of Photography Artist Award in '09, exhibiting "Common Place" in the Gallery of Photography, Dublin. Some recent group exhibitions include Uncertain States, Gallery of Photography Dublin, 13, Grid: bi-annual International Photo Festival, Amsterdam '12, "Postcards from the Celtic Tiger" at Xuhui Art Museum, Shanghai, China '10, Ev+a International Visual Art Exhibition, Limerick, '09. Eoin received a Belmont Mill National Residency Award in 2008, spending three months living and working in Co. Offaly. His work has been nominated for the Foam Paul Huf International Photographic Award 2012 and the Prix Pictet Prize in 2013 and 2011 and he has been published in Irish Arts Review, New York Times, Source Magazine, Irish Times among others.
Jock Nichol
Jock Nichol trained at Edinburgh College of Art and moved to Ireland in 1991 where he lives near Birr with his artist wife and 3 children. He has exhibited widely and has work in public and private collections here and abroad.His paintings are reflections on experiences and observations on many long walks in the Slieve Blooms, where a very familiar landscape reveals chance encounters and fleeting surprises. They are a direct response to landscape as experienced as opposed to being viewed through a secondary image or screen.
Ken Wardrop
Wardrop is the son of a farmer, growing up in Portarlington, Co. Laois. After a stint working in London he enrolled at the National Film School, IADT where he graduated in 2004 specialising in creative documentary making. His graduating short film, Undressing My Mother, won over 25 international awards. Since then he has received acclaim for other short films and his debut feature film "His & Hers". His work centres on finding beauty in the mundane and explores themes of family and relationships. He set up a production company Venom Films with producer and former classmate Andrew Freedman through which the two have developed television commercials and feature film projects.
Lisa Fingleton
Lisa Fingleton is an artist and filmmaker originally from Laois, now living in Kerry. Lisa has worked as film maker in residence with Kerry, Cork, Limerick and Kildare County Councils. Lisa was the first Irish film-maker to participate in ESODOC (The European Social Documentary Film Programme). She coordinates The Happy Artist, a creative arts project based in Balllybunion (www.thehappyartist.ie). Lisa is the recipient of numerous awards including Bursary and Travel Awards from the Arts Council of Ireland, the 'Emerging Artist Award' (COE, 2009), and the 'Patronage Award' (Laois County Council, 2007). Lisa graduated in Fine Art from the National College in Art and Design in 2005 and has just completed an MA in Screen Documentary at Goldsmiths College, London. Her latest award winning film 'Waiting for you' is currently touring international festivals.
Saidhbhín Gibson
Saidhbhín Gibson lives and works in the south-east of Ireland. In 2000, Gibson received a B.A. in Fine Art from D.I.T. Mountjoy Square, Dublin. She has exhibited both in Ireland and internationally including Canada, Iceland and New Zealand. She has participated on a number of artist residencies including the Tyrone Guthrie Centre. Last year, she had a solo show in The Arthouse Gallery, Stradbally, Co. Laois and she was a featured artist with a solo show in the Carlow Arts Festival visual art strand. Recent group shows include Ormston Summer Members' Exhibition, Limerick (curated by Ian Aiden Russell) and 'Bagga Khans', A4, Dublin.
Simon Burch
Simon Burch is a photographer based in Dublin. Originally from N.Ireland, he worked in London for 8 years, then came to Dublin in 1996 to establish a studio. His work practice is divided between Fine Art and assigned work, for which he has won international awards. He has been commissioned by Time magazine, his work has appeared in the New Yorker, and has twice been an invited artist to the Royal Hibernian Summer Show. He has recently completed an MFA (Photography) to distinction level, and his work is held in public and private collections.
Vera McEvoy
Vera McEvoy is an Irish artist and a graduate of the National College of Art and Design, Dublin, Ireland. She was the recipient of the inaugural Arthouse NCAD Graduate Award and Bursary in 2011-2012 and has exhibited nationally and internationally since 2007. Solo exhibitions include Shine at King House, Boyle, Co Roscommon. Group shows include the Cross Gallery, Dublin, Impressions 2010, Galway Arts Centre, Monster Truck Gallery, Dublin and Sculpture in Context 2012, National Botanical Gardens, Dublin, Landfillart Project, Pennsylvania, USA, International Print Show, El Minia, Egypt. Publications include Shifting Perspective in Contemporary Art, the Role of Art, Artist and Participant. Her work is represented in public and private collections nationally and in private collections in Australia, England and the USA.
CURATOR
Muireann Ní Chonaill
Muireann Ní Chonaill is Arts Officer for Laois County Council. She oversees the council's diverse arts programme. She manages the Arthouse, Stradbally, Co Laois which opened in March 2011.She is undertaking the two year MA in Visual Arts Practices (MAVIS) at the IADT, where she is taking the curating pathway.
.