'Painting the portrait from life'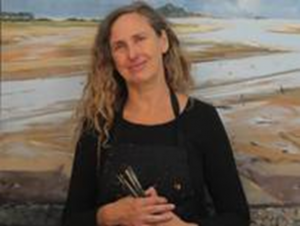 The Laois Arthouse is delighted to welcome Una Sealy RHA for the annual summer arts programme for adults. In these two day workshops, Una Sealy led the participants through the process of painting a portrait from life; from planning the composition, through tonal under painting, to completed painting.
Una painted alongside the participants to demonstrate the various principles, and gave  individual guidance according to each artist's level of experience.
An exhibition of Una Sealy's portraits and a selection of participants work is now displayed in the Laois Arthouse Gallery. The exhibition was opened by Sinéad Ó Reilly, Head of Local Arts and Participation at the Arts Council of Ireland.
Una Sealy RHA is an Irish artist based in North Co. Dublin. She paints domestic interiors, streetscape, landscape and portraiture. She paints from observation and often the compositions evolve organically, with elements appearing and disappearing before the final arrangement is arrived at. The works form a kind of visual autobiography. This exhibition of Una Sealy's portraits showcases a personal selection of works depicting friends and family, shown together for the first time. Sealy works from life, and spends varying amounts of time with her sitters, from a single three hour sitting, to longer term projects requiring multiple sessions. This connection between artist and sitter is important to Sealy, as the resulting conversations inform the work, and contribute to a certain fluidity in the paint handling.  The aim is that the resulting work somehow encapsulates time passing, as opposed to one static moment.
Further information from Muireann Ní Chonaill at, artsoff@laoiscoco.ie +353 57 86 64109