Most recent exhibition 'Winter Trees from the Artist's Garden'
An exhibition of drawings by Mary Lee Murphy was officially launched on Saturday 11th March by Lord and Countess Rosse of Birr Castle. The work was highly praised by  Lord and Countess Rosse in their opening speeches. Winter Trees from the Artist's garden' is   a vibrant' unique collection of pencil drawings that were made outdoors over the winter months, of trees in the artist's garden.  All  welcome to view the exhibition on display until 13th April. Opening times: Tues and Thurs 1pm-5pm & 5.30pm-8pm, Sat: 10am-1pm (except on Bank Holidays)(entry through library)  Wed and Fri 1pm-4pm (entry through green doors) For more details contact T: 057 8664033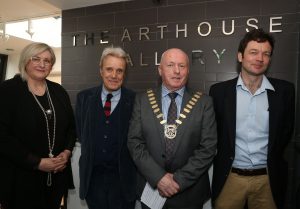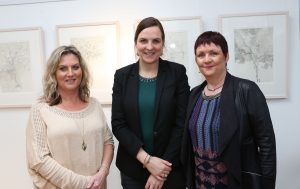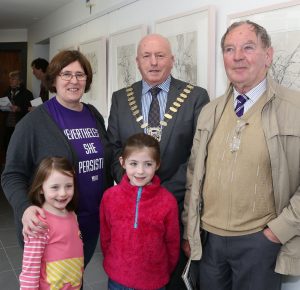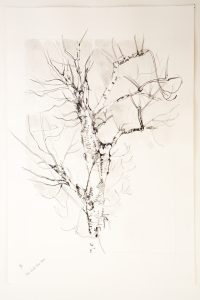 '.
Mary Lee Murphy is an artist based in the Sligo countryside but originally from Waterford. Mary's work has been widely acclaimed with thirteen solo shows to date and participation in numerous group, open submission, and invited exhibitions both at home in Ireland and abroad. Her work is in many public and private collections.  The artist and her work has also featured in a short documentary produced by TG4. The exhibition runs from Saturday 11th  March to Thursday April 13th 2016.
More information on Mary's work is available at www.maryleemurphy.com
Most recent exhibition  "Related to Life"
A wonderful mix of multimedia artwork by Mette Sofie Roche entitled "Related to Life" opened on the  17th November and was launched by Curator Susan Boyle.
Mette is originally from North-Norway but has lived in Ireland for more than 40 years and runs a full time art practise from her studio in Co. Meath. After a 30 year professional career as a social worker she graduated from NCAD in 2011 with a Diploma in Art & Design.
She is a process oriented and multidiscipline artist who uses a wide spectrum of both materials and methods in her art practise. What she is interested in is to take real life objects or materials and turn them by some inspired, secret process, into something else; related to life in some way, conceptual or otherwise, but stronger, more intense and preferably weirder. Research into the cultural traditions, beliefs and myths of the Samé People in the Northern hemisphere, her ancestors, has given direction to her art work in the last few years.  It is a culture in transition with influences from many different directions both religious, political and economic. Only traces and fragments are sometimes left of the ancient traditions and the knowledge of nature so vital to a traditional Samé community.
The sculptural installation of  Tatterlings  symbolises the deterioration of the old way of life and is made from the synthetic fiber found in workmen's suits.  A collection of drawings and silk paintings are further fragmentations of these sculptures. She explores the old craft of candle making in her wall mounted and freestanding wax sculptures which are inspired by the old Samé 's belief in Totemism; believing in the power of inanimate objects to hold "conscious" spirits that interact with society. The land inhabited by the Samé have been fought over, claimed and contested for generations. The sculptures  Inherited Landscape and  Subject to Inquiry  make references to the many litigation processes. In Whitescape, the memory and knowledge of the landscape are in the folds and layers, twists and turns  of organically shaped rags from re-cycled cotton bed linen.
The art work creates innovative compositions with elements of mystery,  ambiguity and a sense of intrigue. The work process is a way of tracing and preserving things that are gone or slowly disappearing – or falling apart. The ambiguity allows the viewer to bring their own meaning to the art work.www.metteroche.com  The exhibition runs until Friday 9th December   Opening times: Tues and Thurs 1pm-5pm & 5.30pm-8pm, Sat: 10am-1pm (except on Bank Holidays)(entry through library)  Wed and Fri 1pm-4pm (entry through Laois Arthouse) For more details contact T: 057 8664033
Previous Exhibition 
And then I paint by Lorna Corrigan opened on Saturday 15th Oct and ran until mid Nov. The exhibition was officially launched by artist Elizabeth Cope and was a great success with most of the works selling at the launch.
Lorna works on canvas and paper with acrylic paint, pastel and acrylic marker. She embraces a range of subjects in her artworks which are inspired by her dreams and also taken from her memory or travels to places like Australia, France, Denmark and America. Working with bright, bold colours, assured lines and repetitious patterns she paints and celebrates people and the world in general. From the young age of 5, when she poured a can of red paint over herself and a dull grey tractor, Lorna has considered herself an artist.
Lorna is a member of the KCAT Studio in Kilkenny. She has shown work in many exhibitions in Ireland including at Ormonde College and County Hall Kilkenny, Kilkenny Arts Festival, St. Luke's Hospital Kilkenny, Dunlavin Arts Festival Wicklow, Kilkenny County Council Arts Office Gallery, Kilkenny Design Centre, Airfield Trust, Garter Lane Arts Centre, Áras Éanna, Burren College of Art, Waterford Regional Hospital, Axis Art Centre Ballymun, Crawford Art Gallery, Dublin City Council Offices, Butler Gallery Kilkenny, City Hall Cork, Copperhouse Gallery Dublin. She has also shown internationally including in Scotland, Australia, Switzerland, Luxembourg, Germany, The Netherlands. Lorna's work is featured in a number of publications, documentaries and catalogues including "Beyond: Irish Outsider Art 2015" and "Living Colour", a feature documentary based on the KCAT Studio artists. A native of Kildare Lorna now lives in Carrick-on-Suir, Tipperary.